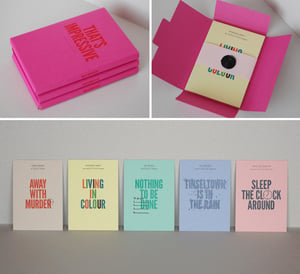 £

3.00
Due to the popularity of our previous self promotional mailers, we thought that while distributing our latest, we could help a worthwhile charity.
Please help us to raise funds for Barnardo's childrens charity.
That's Impressive is a set of postcards featuring songs from some notable Glasgow bands, designed by Kerr Vernon and letterpress printed by Glasgow Press.
Sorry, these are no longer available from this source. Please check with your G F Smith rep, who may be able to help.